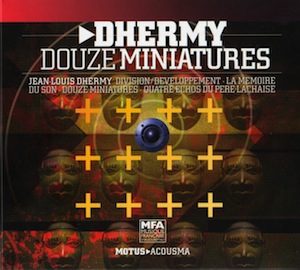 Douze miniatures
La mémoire du son
Quatre échos du Père Lachaise
Douze miniatures
First performance : 2002 in Paris, International Festival FUTURA
33 min
The little book that Jamel Eddine Bencheikh (poet) gave me during a recording session, impressed upon my mind immediatly. These Masques Visages, a set of twelve paintings by Sarah Wiame and twelve poems by J.E. Bencheikh, revealed again to me the powerful possibilities of imagination. The depth in feeling of each painting was estonishing and, once more, each short poem induced admiration with a sensitive understanding. Each Miniature musicaly expresses each Masque Visage. The text is entirely recited by the author.
Most often, the voice is integrated in the sound context, lightly transformed, or, on the contrary, completely modified, related to an expressive reason. A predilection for speaking in a whisper finds its way again in this work, because of the content of the poems which led me to interpret them as if they were personal confidences. As in all compositions of mine, almost all sonorities originate from acoustic sounds and then, are powerfully turned into strange events, both with digital and analogical processes. This work is set of twelve short pieces clearly related by their sonorities or (and) their psychological extent. On the one hand, part 4 and 5, and on the other hand, part 11 and 12 are connected by a musical evolution necessity.

Also edited by MOTUS
La mémoire du son
First performance : 2001 à Paris, International Festival FUTURA
22 min
Music composition for a painting exhibition
of Monique Bouquerel. 
Poetical text from Les Mémoires du Sang 
written by Jamel Eddine Bencheikh.


The biological network, the lightness, the linear concept, the notion of polymorphism, the right and back side, the brightness or flatness……such are the diverse aspects which led me to compose this evolving music. As in a few of my earlier compositions, we are invited to go back into our own imaginary.
 Some particularities of the pictures as their red colours, have suddenly induced some hearing sensations perceived within a filtered environment, where sounds comes to us partially. Some voices, some more or less precise noises lay out some part of our memory. 
From "Blood memory" to sound memory, the path has been quickly drawn. The poetical text of Jamel Eddine Bencheikh is captivating by its universal meanings, by ideas suddenly tightened between imageries, creating a texture of wonder, of incertitude.
Also edited by MOTUS
Quatre échos
du Père Lachaise
Composition : 2002
18 min (short version)
Quatre échos du Père Lachaise came from a meeting with Vincent de Langlade while visiting the Père Lachaise cimetery. I have been so surprised to have a fascinating walk along this place that the idea to compose a music using all sounds and noises of this area came to my mind. And, of course,a few stories narrated with a so much humouristic style have emphasized my project.
All sounds are recomposed. This means that individual recordings have been transformed and mixed in a musical manner so that, in fact, a listener can't hear and understand the former one's. So, some bells, some crows and others cries are streched and harmonized.
Also edited by MOTUS