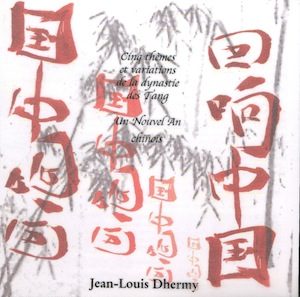 Cinq thèmes et variations de la dynastie des Tang
Un Nouvel An chinois
Cinq thèmes et variations de la dynastie des Tang
Composition : 2003
20 min
This work results from my ancient interest for extra-europeen musics. Along my musical studies I discovered japaneese and chineese style, Dubtless have I developped a few ideas which have expanded recently when the intemporal aspect of these traditions came to my mind.

Intemporality and spirituality. 

I felt them intensively. My own means of creation induced an other approach. Sound treatments concerning some specific musical fragments played by Rao Ying and Guo Gang have an important melodical caracteristic, naturally or transformed by a live playing . The harmonization in drift also and led several indexes of listening. The sounds effects constituents are much less present than in my previous creations.

 In all cases , I liked respectful person and to highlight purity and sobriety melodic.

 Simultaneously, I discovered the poetries dynasty of Tang, contemporaries of the musical proposed examples peer both musicians. Then, be reflected resounded and favored the sound evolutions.

 Thanks to Rao Ying and Guo Gang for their wonderfull musicality.

Un Nouvel An chinois
Composition : 2004
16 min
It comes from recordings along Champs-Elysées and 13° arrondissement in Paris which compose again certain sounding evolutions.